Nicole McLaughlin, L.Ac., MAOM, MSED
Being an Acupuncturist is Deeply Fulfilling
It's an honor and privilege to partner with you on your path to better health. Working with people one-on-one and seeing their progress is deeply fulfilling. I enjoy making connections and sharing the wisdom of East Asian Medicine.
Use the quick links below to jump to that section lower on the page:
Growing Up & Showing Up
Growing up in the 80s & 90s in an English-only speaking household with a multilingual, Spanish-speaking mother from Buenos Aires, Argentina, shaped my experience as a first-generation American in Upstate New York.
My mom and dad placed a lot of emphasis on bettering myself with education, sports, and the cultural arts. As a kid and teenager, I studied piano and the alto saxophone. I also enjoyed drawing, singing, and dancing.
When I was a senior in high school, I entered college a year early, which allowed me to earn 30 undergraduate credits and finish my undergrad studies at the age of 20. I feel lucky to have completed my formal education and to have the opportunity to share the knowledge I've acquired to serve others.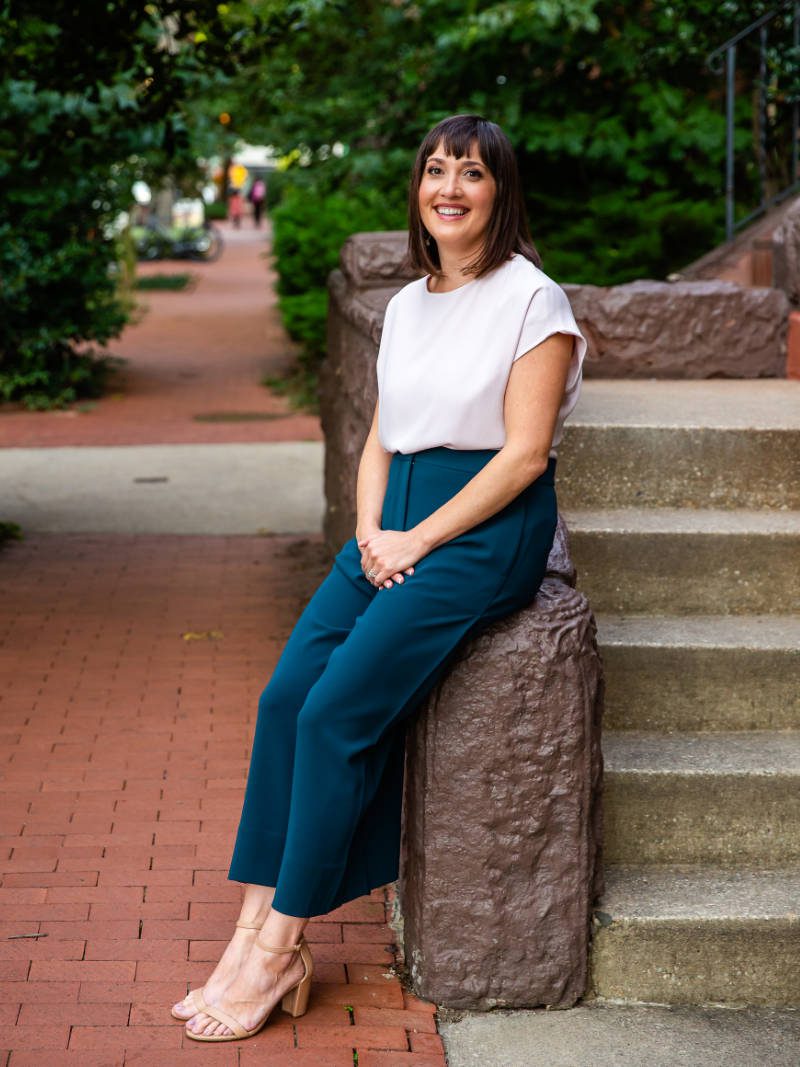 I've created a safe, inclusive space for patients to address their health concerns naturally and holistically. I'm committed to supporting you by using East Asian Medicine to address the root of your health concern and to enhance your overall health. My goal is to provide excellent acupuncture medical services and for you to experience the benefits of holistic healthcare.
Professional Background
I've completed a six-year graduate level accredited acupuncture and Oriental medicine program at Maryland University of Integrative Health in Columbia, MD. As a licensed acupuncturist and Chinese herbalist, I'm licensed through the District of Columbia Department of Health, Board of Medicine. I'm an expert in Acupuncture and Chinese Herbology. No matter what your health concerns are, I have the qualifications and the experience to help you feel better.
Education
Post-Graduate Studies & Seminars
Professional Associations and Memberships
My Expertise & Interests
Five Elements in Acupuncture
Eight Principles of Diagnosis in Traditional Chinese Medicine
Contemporary Chinese Pulse Diagnosis
Five Elements in Chinese Herbal Medicine
Moxibustion / Moxa therapy
Meditation
Yoga
Other Online Profiles
Inclusive Holistic Healthcare
We are sensitive to LGBTQ+ patients and offer a safe, inclusive space for you to address health concerns naturally and holistically. We value and celebrate diversity within the DC community we serve. This includes embracing a variety of cultures, skin tones, sexual and gender orientations, religious traditions, political views, family structures, mental and physical health and abilities, and socioeconomic statuses and educational backgrounds. 
If we're unable to accommodate your needs, we'll do our best to connect you with community resources and referrals.
I'm Here to Help You Enhance Your Health
I'm here to support you on your path to better health. My goal is to bring balance and harmony into your life so that you feel better and live life fully.
East Asian Medicine is an elegant, sophisticated, and holistic system of natural medicine that can support your health and wellbeing. We use acupuncture, Chinese herbs, cupping therapy, and tuina massage as forms of treatment that can be used independently or together to resolve your primary health concern and more. Make an appointment today, and let's create a plan for you.
We're in-network with Aetna and BlueCross BlueShield (BCBS)/CareFirst. You can also use your FSA or HSA card. Ready to take the next step? Check your insurance benefits and then go to our online scheduling page to make your first appointment.
Looking forward to seeing you!
Nicole McLaughlin Acupuncture